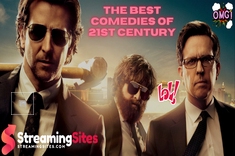 The best comedies of the 21st century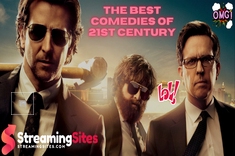 The best comedies of the 21st century
2020 is almost over (thank god), and the world is feeling more and more like a bad episode of South Park every day. Or maybe it would be a good episode of South Park – if only we weren't living it. Either way, sometimes the only thing to do when the world is on fire is to have a good laugh and hope that the flames die down before they reach you.
Is that too bleak for an introduction to the best comedy movies of the 21st century? … Eh, I don't think so. Comedy is, after all, most potent in the face of tragedy. And we have most certainly seen our fair share of tragedy over the last 20 years. Comedy gives us an excuse, gives us permission, to feel pure joy in times of hardship. Laughter helps us to process, heal from, take agency over, and/or forget about our scars – if only for a few seconds at a time.
So, why not turn off the news for a few hours, with its constant stream of nightmare headlines and impending doom, and enjoy some of the funniest movies of our time? Many of these titles are available on your favorite streaming subscription services like Netflix, Prime Video, and Hulu. The ones that aren't can definitely be watched on one of the myriad free movie streaming sites that I've reviewed.
No matter how you choose to watch, feel free to refer to this list often, whenever you need a little pick-me-up. If laughter is the best medicine, consider this list a cabinet full of free opiates. Take as needed for pain. Mixing with alcohol strongly encouraged. As we barrel closer and closer towards the edge of extinction, let's kick back and enjoy the ride … Here are the best comedies of the 21st century:
Pineapple Express (2008)
Director David Gordon Green

Starring Seth RoganJames FrancoGary Cole
When it came out, this movie was every bit as fresh and original as it was familiar. Maybe this is why it was an instant classic. Firmly rooted in the well-established tradition of stoner movies to come before it (Up in Smoke, Half Baked, Super Troopers, etc.) while also employing elements of buddy comedies, action flicks, and indie films, Pineapple Express is not so easily pinned down. I can't count how many times I've seen this one, and it still makes me laugh out loud every time, even 12 years later.
A process server (Rogan) and his pot dealer friend (Franco) find themselves on the run from hitmen and corrupt police officers after he witnesses his dealer's boss committing murder while attempting to serve papers to him. This is a must-see for anyone who enjoys laughter and mirth.
Tropic Thunder (2008)
Director Ben Stiller

Starring Ben StillerJack BlackRobert Downey Jr.
A lot of people have written off this supremely star studded and hilarious satire in today's era of cancel culture and #wokeness. In fact, parts of this movie feel like they could be from a bygone era, even though the movie came out a little more than a decade ago. I'm speaking specifically about Robert Downey Jr.'s method-acting character appearing in blackface in pursuit of an Oscar.
Just for the record … No, blackface is never acceptable. However, Tropic Thunder is a hilariously satirical joyride, if you are able to accept it as such. When a group of prima donna actors are abandoned in the jungle (the set of the war movie they are shooting), we are given a top-tier parody of Hollywood, materialism, war movie tropes, and the sometimes disgusting absurdity of the entertainment industry as a whole. Come for the cast of A-listers; stay for the meta-ironical satire and wit.
Dodgeball (2004)
Director Rawson Marshall Thurber

Starring Ben StillerChristine TaylorVince Vaughn
"If you can dodge a wrench, you can dodge a ball." Have wiser words ever been spoken? If you've seen this oddball underdog classic before, you know exactly what I'm talking about. If you've never seen Dodgeball, well, then you probably have better time-management skills than me. But, hey, all we have nowadays is time. Why not kill some boredom with this oddball underdog story featuring one of Ben Stiller's best performances to date?
It's a pretty typical premise: you know, a band of misfits is forced to enter a professional dodgeball tournament in order to raise the funds needed to save their beloved local gym from shutting down. A story as old as time…
Wedding Crashers (2005)
Director David Dobkin

Starring Owen WilsonVince VaughnRachel McAdams
One more Vince Vaughn movie, just for good measure (how's that for a transition?). Any list of the best comedy movies of this millennium, though, would be laughably incomplete without Wedding Crashers. Have you ever met somebody who has seen this movie and hated it? Yeah, neither have I. That's because it's a romcom that managed to find the perfect balance between rom and com (with more emphasis on the "com," thankfully).
Friends John Beckwith (Owen Wilson) and Jeremy Grey (Vince Vaughn) have a tradition of crashing strangers' weddings to meet women (capitalizing on the air of romance). When John falls in love with Claire Cleary (Rachel McAdams), though, the pair have a falling out. Equal parts funny, sexy, and sweet, Wedding Crashers is one of a kind.
Old School (2003)
Director Todd Phillips

Starring Will FerrellLuke WilsonVince Vaughn
This is a one for the ages. With Will Ferrell at his peak, alongside Luke Wilson and Vince Vaughn (yes, once again!), Old School is early 2000s comedy at its finest. Although this wasn't the biggest box office smash when it first came out, it has since become a cult classic and has served as a jumping off point for all 3 leads (Wilson, Vaughn, and Ferrell) to springboard into leading actor roles and very successful careers respectively.
One of the funniest takes on the midlife crisis that I've ever seen, 3 college friends attempt to relive their glory days by starting a new frat near their alma mater. If you're wondering, yes, it is every bit as fun and destructive as it sounds.
The Hangover (2009)
Director Todd Phillips

Starring Zach GalifianakisBradley CooperJustin Bartha
We've all been there: a night of partying with your buddies gets away from you and when you wake up you have no recollection of the previous night's events and your head hurts so bad that you wish you could be mercy killed. Maybe you've never woken up from such a night to find a tiger in your bathroom or that you have somehow acquired a baby, but we all can relate to the premise of The Hangover in one way or another.
When three buddies wake up the morning after a wild bachelor party in Las Vegas with absolutely no clue what happened the night before, they must navigate some pretty precarious situations (of their own drunken doing) while they attempt to find their missing friend in time for his wedding. The Hangover is must-see comedy.
50 First Dates (2004)
Director Peter Segal

Starring Adam SandlerDrew BarrymoreRob Schneider
50 First Dates is the quintessential romcom … at least for those of us who were raised on a healthy diet of Adam Sandler flicks in the 90s. Sandler and Barrymore have a certain undeniable onscreen chemistry about them, which we first caught a glimpse of in 1999's The Wedding Singer. Here, 5 years later, their chemistry is firmly solidified into a beautiful story of trust, commitment, and amnesia.
Henry Roth (Sandler) is terrified of commitment. Until, that is, he meets his Lucy (Barrymore) in Hawaii. There is an immediate connection between them, and Henry believes he's found the girl of his dreams. When she doesn't recognize him the next day, though, due to an extreme case of chronic short-term memory loss, he is vexed. If you need a heartwarming tale of the power of love, this one tinged with the classic comedic stylings of Adam Sandler will make you laugh and cry until you don't know which is which anymore.
Superbad (2007)
Director Greg Mottola

Starring Michael CeraJonah HillChristopher Mintz-Plasse
This is the movie that started it all for now-household names Jonah Hill and Michael Cera. And, honestly, can you think of a better movie to jumpstart your career than Superbad? This one is nothing short of iconic. There were countless memes in this movie before memes were even a thing. For a while there, you couldn't go anywhere without hearing a Superbad reference (especially when it came to Mintz-Plasse's beloved character, McLovin').
A classic high school party flick, this legendary piece of comedic gold follows 2 unhealthily close high school seniors (Hill and Cera) on a series of misadventures as they try to throw the ultimate house party. Part coming of age story, part buddy adventure, Superbad is the kind of movie you'd play for your students if you taught Intro to Comedy (presumably because you're too hungover to teach that day … that is the real reason teachers play movies, by the way).
The 40-Year-Old Virgin (2005)
Director Judd Apatow

Starring Steve CarrellCatherine KeenerPaul Rudd
Speaking of hit comedies that launched incredible careers, The 40-Year-Old Virgin was to Steve Carrell what Superbad was to Hill and Cera. A classic Judd Apatow film through and through, it doesn't get much better than this. Could you call this movie a romcom? Sure, I guess, technically, you could. It would be more accurate, though, I think to call this a com-rom, because it always puts the humor before the romance almost all the way through (right where it belongs).
The plot of the movie is basically described by the title. Also, if you don't know what The 40-Year-Old Virgin is about by now, I mean, there isn't much that I can do to help you at this point. You're on your own, pal, sorry.
Bruce Almighty (2003)
Director Tom Shadyac

Starring Jim CarreyJennifer AnistonMorgan Freeman
Jim Carrey is, without a doubt, one of the funniest people to ever live, and Bruce Almighty sees him at the height of his powers. Quite literally. In this classic, Carrey plays Bruce Nolan, a down on his luck newscaster who blames God for his recent professional and personal misfortunes. God (played by none other than Morgan Freeman) responds in kind by imbuing Bruce with all of His powers to teach him a lesson about how difficult it is to run the world.
There is truly no other movie like it. With vintage Jim Carrey, Morgan Freeman as God, and an exceptional performance from Jennifer Aniston as Bruce's girlfriend, Bruce Almighty proves, once and for all, that God does, indeed, have a sense of humor.
How High (2001)
Director Jesse Dylan

Starring Method ManRedmanObba Babatunde
How High is one of the most underrated stoner comedies of all time. It combines the star power and charisma of one of hip hop's most notorious duos (Method Man and Redman of the Wu Tang Clan), an original (if somewhat out there) storyline, and, of course, pounds and pounds of dank bud. I guarantee that this movie will have you giggling uncontrollably like you ate a few pot brownies and can't get off the couch.
Silas (Method Man), an amateur botanist and pot dealer's good friend, Ivory (Chuck Deezy) dies in a freak accident. To honor his memory, Silas grows a special strain of weed by mixing Ivory's ashes into the soil, which results in some literally magical marijuana. Ivory's ghost appears to whomever smokes it. Now an all-knowing entity, Ivory gives Silas and Jamal (Redman) all the answers to their SATs (which are aptly called the THCs in this universe); their perfect scores land them a full ride to Harvard.
Eventually, though, their supernatural smoke runs out and, so, Silas and Jamal must rely on themselves and each other so as to not fail out. No matter what happens, one thing is for sure: Meth and Red leave their mark on this stuffy Ivy League institution. So, roll up a blunt or 2, grab your bong, and ready the munchies – How High is packed deep with laughs from start to finish.
Zoolander (2001)
Director Ben Stiller

Starring Ben StillerOwen WilsonChristine Taylor
That's right, another Ben Stiller vehicle has made the cut. The guy knows how to make a funny movie, what can I say? And Zoolander is arguably Stiller at his best. Everyone has at least heard of this one, and I wouldn't be surprised if 99% of the people reading this have seen this one (probably more than once). This was a huge hit when it came out in 2001, and it is one of those rare early 2000s comedies that actually holds up.
Nearing the end of his career, vapid (that's putting it nicely) male model Derek Zoolander (Ben Stiller) is brainwashed into assassinating the Prime Minister of Malaysia. Get ready to enter an alternate reality in which male models are the biggest superstars in the world and the fashion industry is a powerful player in the geopolitical landscape. Skip the 2016 sequel, though, it's nothing but a cheap cash grab, a parade of cameos and lame callbacks.
Super Troopers (2001)
Director Jay Chandrasekhar

Starring Jay ChandrasekharKevin HeffernanAndre Vippolis
Here's yet another cult classic. Super Troopers is one of those movies that seems to get funnier every time you watch it. So, even if you have seen this one before, it might be high time for you to revisit it (stream it on Starz if you have it or, of course, from your free streaming site of choice). Nearly every single scene of this movie is comedic gold.
In case you have somehow never heard of Super Troopers before, here's the scoop: when 5 screwup Vermont State Troopers learn that their jobs are on the line, they try their best to outdo the local police department in solving a crime. This one has it all: laughs, crime, mystery, and, of course, the world-famous snozzberries.
Forgetting Sarah Marshall (2008)
Director Nicholas Stoller

Starring Kristen BellMila KunisJason SegalPaul Rudd
Forgetting Sarah Marshall is the best rom-com ever made. There, I said it. It strikes the perfect balance between hilarity, heart, and hijinks. Plus, I mean, just take a look at the cast … it's loaded with nothing but comedy heavy hitters: Kristen Bell, Jason Segal (you may know him better as Marshall [no relation] in How I Met Your Mother), Paul Rudd, Mila Kunis, Russell Brand, Bill Hader, Jonah Hill, Jack McBrayer … the list goes on and on. Don't worry, though, it's not technically an ensemble cast because Sarah Marshall was filmed before most of these actors skyrocketed to their respective superstar statuses of today.
Peter (Jason Segal) is heartbroken when his TV star girlfriend, Sarah Marshall (Kristen Bell) breaks up with him suddenly, so, he takes a trip to Hawaii to try and get over her. In a cruel twist of fate, though, Sarah Marshall just so happens to be staying in the same resort, and she's brought her new boyfriend along with her (Russell Brand).
Stream this one on your favorite free streaming site or rent it on Prime Video for 4 bucks; it's worth the money (especially if you've somehow never seen it!).
Borat (2006) & Borat Subsequent Moviefilm (2020)
Director Larry Charles (2006)Jason Woliner (2020)

Starring Sascha Baron CohenKen DavitianMaria Bakalova
It is incredibly rare when a sequel is every bit as good as the original, especially when there are 14 years separating the two. However, both Borat films deserve to be on this list in equal measure, I think. Arguably the best thing to come out of the year 2020, the new Borat movie has proven to be great success and every bit as provocative a satire as the first.
Borat (Sascha Baron Cohen) is a TV reporter from Kazakhstan. In the first movie, he is dispatched to the United States in the depths of the Bush era (read: the height of US Islamophobia) to report on "the greatest country in the world." Borat, however, becomes sidetracked by his own mission: marrying Pamela Anderson.
In the second Borat movie, the formula is similar: Borat is once again sent to the US on a mission, this time it is to gift his daughter to Vice President Mike Pence as a token of goodwill for Kazakh-US relations. I think it's safe to say that, in the midst of the Trump era (which makes the Bush years look quaint by comparison), there was no better time than now for Borat to make his triumphant return. Stream Borat today if you need a little levity in the face of the America's imminent demise.
Laughing through the Pain
Whether you are looking for a break from the craziness that is our world right now, or you want something that will poke fun at it directly, there is something for you on this list. Times are tough, I know, but it is important for our mental health that we tune out the noise every once in a while, and just have a good, hearty laugh.
No matter which of these movies you choose to stream, I guarantee that you will be able to forget about the fact that the world is burning, at least for an hour or so … lol