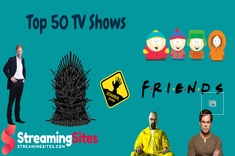 Top 50 TV Shows of all time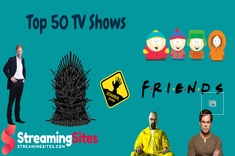 Top 50 TV Shows of all time
I have always been a silver-lining kind of guy. That is just my nature. With a pandemic still ravaging much of the world, keeping the more sensible of us inside as much as possible (and with winter fast upon us), it can be hard sometimes to see the bright side.
That being said, one thing that I have been able to do during quarantine is finally catching up on a ton of television. There are so many shows that I have been meaning to watch, some that I have been putting off for years now. Well, now that I often have literally nothing to do but watch TV, this has been a great opportunity to catch some of the best TV shows ever made.
In that spirit, then, I thought that it might be helpful if I made a list of the 50 best TV shows of all time. There have been so many times when I have had every single premium and free TV streaming service at my disposal and nothing but time to kill, but I just could not for the life of me figure out what I wanted to watch. Well, if you ever find yourself in that same predicament, hopefully, this list of the 50 best TV shows will be a helpful resource.
There is, I think, a little something for everyone here on this list. And, thanks to all of my reviews of the best TV streaming sites on the web, you should have no problem finding and streaming any and every show found below.
You may not agree with my ranking of all the shows that you will find here, and perhaps there are some shows that you think either should have been listed here and are not or that are listed here and absolutely don't deserve to be. That is fine. We are allowed to have conflicting opinions. This is simply my list of the best 50 TV shows of all time. You are welcome to make your own.
Still, though, I did try my best to strike a balance between critical acclaim, popularity, and scope of influence. Each show, too, will feature the duration of its run and its IMDb rating (to further justify its placement!). So, with that in mind, here are the best 50 TV shows ever made:
True Detective
IMDb Rating 9.0

Years on the air 2014 –
An HBO smash hit, True Detective puts a modern and gritty spin on the traditional hardboiled detective trope. A must-see for fans of the crime genre, as well as for fans of great television, more generally.
Everybody Loves Raymond
IMDb rating 7.1

Years on the air 1996 – 2005
Everybody loves Everybody Loves Raymond. A staple of the late '90s, this classic sitcom follows the life of sportswriter Ray Barone (Ray Romano) and his dysfunctional family
Law & Order
IMDb rating 7.7

Years on the air 1990 – 2010
A show that needs no introduction, Law & Order dominated popular television for 20 years. Each episode followed one crime (usually taken from current headlines); the crime then played itself out from 2 simultaneous and interspersed vantage points: the police investigation of the crime and the court case. If you love the classic, there are, of course, plenty of spin-offs for you to stream as well.
In Living Color
IMDb rating 8.1

Years on the air 1990 – 2006
The first-ever comedy sketch show with an all-Black cast (well, except for Jim Carrey), the Wayans Brothers made one of the funniest and timeless variety shows of all time.
The West Wing
IMDb rating 8.8

Years on the air 1999 – 2006
Almost solely responsible for the trend of 'insider' political dramas that would eventually take over prime time, The West Wing follows the personal and professional lives of White House staffers (and, of course, how those intersect).
Orange is the New Black
IMDb rating 8.1

Years on the air 2013 – 2019
Before Orange is the New Black, the lives of female convicts were a relatively unexplored topic in TV. Sentenced to a year-and-a-half behind bars for having assisted her now ex-girlfriend with transporting drugs (10 years ago), usually law-abiding Piper Chapman (Taylor Schilling) is forced to face the harsh realities of prison life.
The Mentalist
IMDb rating 8.1

Years on the air 2008 – 2015
A world-renowned "psychic" admits to being fraudulent and begins working for California's Federal Bureau of Investigations. His mission is to hunt down the man who killed his wife and daughter. This one will keep you on the edge of your seat with every scene.
Brooklyn Nine-Nine
IMDb rating 8.4

Years on the air 2013 –
A hilarious (but sincere) satirical take on the traditional detective show. Follow the exploits of detective Jake Peralta (Andy Samberg) and the rest of the motley crew that is the NYPD's 99th precinct.
Friday Night Lights
IMDb rating 8.6

Years on the air 2006 – 2011
A drama to remember, Friday Night Lights tells the fictional tale of one the best high school football teams in the US, the Dillon Panthers and their coach, Eric Taylor (Kyle Chandler).
Deadwood
Imdb rating 8.6

Years on the air 2004 – 2006
A period piece set in the late 1800s, this show takes place in Deadwood, South Dakota – a town steeped in deeply rooted corruption and crime.
Grey's Anatomy
IMDb rating 7.6

Years on the air 2005 –
Who doesn't know this seemingly perpetual installment of prime-time TV? This drama surrounds the personal and professional ups and downs of five surgeons and their superiors.
Euphoria
IMDb rating 8.4

Years on the air 2019 –
A beautifully produced and sharply written glimpse into the lives of modern high school students as they navigate their world of sex, drugs, and violence.
Criminal Minds
IMDb rating 8.1

Years on the air 2005 – 2020
The FBI's Behavioral Analysis Unit (B.A.U) is made up of an elite squad of profilers, ever at work analyzing the minds of the most dangerous serial killers and heinous criminals in an effort to stay one step ahead of their next move. Criminal Minds' enjoyed a well-deserved 15 years on the air, having just called it quits in 2020, leaving you plenty of binge-worthy content in its wake.
Sherlock
IMDb rating 9.1

Years on the air 2010 – 2017
A modern spin places the most famous sleuth of all time and his doctor sidekick in 21st century London, solving crimes. Starring Benedict Cumberbatch as Sherlock Holmes and Martin Freeman as Watson, Sherlock is easily one of the best TV adaptations of all time.
This is Us
IMDb rating 8.7

Years on the air 2016-
Following the struggles and triumphs of the individual lives of a set of triplets (and their incredible parents), This is Us is a show like no other. Get the tissues ready, though, this one is a tear-jerker.
The X-Files
IMDb rating 8.6

Years on the air 1993 – 2018
Fox Mulder (David Duchovny) is a believer. His partner, Dana Scully (Gillian Anderson) is a skeptic. Together they work for the FBI, investigating cases that deal with the strange, the unexplained, and the supernatural. There are hidden forces at work, however, trying to stop their efforts.
Westworld
IMDb rating 8.7

Years on the air 2016 –
Westworld got its start as a film in 1973, directed and written by Michael Chrichton (the author of Jurassic Park). HBO, however, brought this unique and chilling story to its full potential when they reimagined it in 2016. Set in the paradoxical intersection of the near future and the wild west, every episode of this show is more mind-blowing than the last.
The Mandalorian
IMDb rating 8.7

Years on the air 2019 –
The latest addition to the Star Wars anthology, The Mandalorian follows a lone wolf bounty hunter operating far outside of the authority of the New Republic.
Battlestar Galactica
IMDb rating 8.7

Years on the air 2004 – 2009
Although I know that there are people who will be angry about my putting a classic like Battlestar so close on this list to Mandalorian, but I stand by my decision! Battlestar is, nonetheless, one of the best hard sci-fi shows to ever be made. When The Cylons resurface and destroy the 12 Colonies, it is time for the old Galactica crew to reassemble their fleet. The crew of the Galactica are of the last remaining humans alive – together, they must save the 13th colony, Earth, before it is too late.
Spartacus: Blood and Sand
IMDb rating 8.5

Years on the air 2010 – 2013
Spartacus was a gladiator who led a rebellion against the Romans. This incredible, action-packed drama series follows the life of Spartacus – from his time as a Roman ally to his betrayal and time as a gladiatorial slave, to the rebellion that he stages and its ultimate consequences, Spartacus may be one of the most underrated shows to ever air.
Watchmen
IMDb rating 8.1

Years on the air 2019
Another adaptation of the classic Alan Moore graphic novel, Watchmen is one of the best superhero series of recent memory. Its only flaw? The fact that it was but a one-season miniseries. Still, it absolutely swept at the 2020 Emmys. Set in an alternate history, superheroes are treated as vigilante criminals. Watchmen successfully captures the combination of nostalgia and grittiness characteristic of the original graphic novel, while also exploring some new territories of its own. Even if you usually hate superhero movies and comics, Watchmen will not disappoint.
Narcos
IMDb rating 8.8

Years on the air 2015 – 2017
An anthologized take on the trials and tribulations of the infamous drug lord Pablo Escobar, as well as the numerous other drug kingpins inspired by Escobar over the years. Wagner Moura's portrayal of Escobar is one of the most convincing biopic performances of the last decade. If you have Netflix, start streaming this addictive series today.
The Fresh Prince of Bel-Air
IMDb rating 7.9

Years on the air 1990 – 1996
Every megastar has to start somewhere. For Will Smith, this starting point was the classic Fresh Prince series. As tempted as I am to simply transcribe the catchy lyrics of this show's theme song (which sum it up perfectly), here is the synopsis taken directly from IMDb: "A streetwise, poor young man from Philadelphia is sent by his mother to live with his aunt, uncle and cousins in their Bel-Air mansion." That is an equally concise summary (even if it's a lot less fun).
Bob's Burgers
IMDb rating 8.1

Years on the Air 2011 –
Situated firmly in the tradition of adult animation trailblazed by shows like The Simpsons, South Park, and Family Guy, this one is much more family-friendly than its contemporaries, but no less hilarious. Follow the Belcher family as they navigate various social obstacles while attempting to keep their family restaurant afloat. Equal parts toilet humor, truly hilarious wordplay, and tender family lessons, Bob's Burgers is one of the best animated series there is.
Family Guy
IMDb rating 8.1

Years on the air 1999 –
A show that has become, in my opinion, taken for granted over the nearly 20 years it has been on the air, Family Guy is nothing short of a classic. Existing somewhere between The Simpsons and South Park on the spectrum of hard comedy to heart, Family Guy is one of the most influential shows of the 21st century – its constant cutaway scenes arguably creating an entirely new form of comedic delivery.
The Good Place
IMDb rating 8.2

Years on the air 2016 – 2020
The Good Place employs one of the most novel premises for a comedy series of all time. Pair a groundbreaking idea with an all-star cast of both world class actors (Ted Danson and Kristen Bell) and newcomers (Jameela Jamil, William Jackson Harper, and D'Arcy Cardon), and you have the makings for one of the best TV shows ever made. Four people and their otherworldly accomplice are faced with the metaphysical challenge of defining what it means to be a good person.
Barry
IMDb rating 8.3

Years on the air 2018 –
Barry is Bill Hader like you've never seen him. A hitman from the Midwest moves to Los Angeles and becomes enamored with the local theatre scene. The series follows Barry (Bill Hader) and his struggle to escape his life as an assassin in order to pursue his dream of being an actor. If you are looking for the perfect blend of comedy and suspense, this is the show for you.
Arrested Development
IMDb rating 8.7

Years on the air 2003 –
When his unpredictable father (Jeffrey Tambor) is imprisoned for committing a white-collar crime, his level-headed son (Jason Bateman) is charged with leading the family back on track. The rest of his entitled and highly dysfunctional family, though, make this task exceedingly difficult. Easily one of the smartest comedies on air, Arrested Development is far from your average sitcom.
Big Little Lies
IMDb rating 8.5

Years on the air 2017 – 2019
A prime example to cite when referring to television's "golden age," Big Little Lies combines unparalleled star power with excellent writing and production. The superficially perfect lives of affluent mothers whose kids attend the same prestigious elementary school all begin to unravel into murder and deceit when a single mother moves into town, shaking things up forever. With a cast including the likes of Nicole Kidman, Reese Witherspoon, and Meryl Streep, strap in for a nonstop onslaught of transformative performances.
Dead to Me
IMDb rating 8.0

Years on the air 2019 –
The unexpected comedy duo of the last 5 years comes in the form of Christina Applegate and Linda Cardellini. When an uptight widow and a secretive free spirit cross paths, an unbelievably powerful friendship is forged. This dramedy provides the perfect blend of drama and comedy for an experience that feels as if it transcends TV genres altogether.
Fargo
IMDb rating 8.9

Years on the air 2014 –
Deception, intrigue, and murder all abound in small town Minnesota. Every one of these chilling tales, however, all lead back to Fargo, North Dakota. If you liked the original Fargo movie, the television series is a must see. You don't have to have even ever heard of the movie, though, to enjoy this series – Fargo is just good, old-fashioned television at its best.
The Wire
IMDb rating 9.3

Years on the air 2002 – 2008
Sometimes cited as the show that made subsequent classics like Breaking Bad and Ozark possible, The Wire is the original ode to the anti-hero. One of HBO's best offerings, The Wire presents us with a gritty and authentic glimpse at the Baltimore drug scene, as seen through the eyes of both law enforcement and drug dealers alike.
CSI: Crime Scene Investigation
IMDb rating 7.6

Years on the air 2000 – 2015
Although the series originally followed a team of brilliant forensics evidence investigators in Las Vegas, spinoffs that have since been released that apply the same premise to both the cities of Miami and New York. Although all 3 editions of CSI make for phenomenal TV, nothing beats the original. If you are in the mood for a class crime show, CSI is about as good as it gets.
30 Rock
IMDb rating 8.2

Years on the air 2006 – 2013
Loosely based on her experience working with Saturday Night Live, Tina Fey pokes fun at what it's like to be a female writer in the male-dominated world of live sketch comedy TV. A show within a show, 30 Rock is a nonstop laugh fest that spins sharp and witty writing, sardonic social commentary, and fun farcical nonsense into one of the few examples in which meta television actually packs a poignant punch.
Ozark
IMDb rating 8.4

Years on the air 2017 –
One of Netflix's biggest hits to date, Ozark has oft been compared to Breaking Bad. The comparison, I think, makes a lot of sense, especially when you take into account the 'average Joe with a middleclass family turning to the illegal drug business' plotline. That is not where the comparison stops, though, it is also likened to Breaking Bad because of how incredibly bingeworthy the show is as well.
When a financial advisor (Jason Bateman) moves his family from a Chicago suburb to the Missouri Ozarks on assignment to launder money for a drug kingpin, he fights for the lives of himself and his family on a daily basis.
Futurama
IMDb rating 8.4

Years on the air 1999 – 2013
Yet another classic brought to us by none other than Matt Groening, Futurama is every bit as clever, dry-witted, and expertly crafted as The Simpsons. The sci-fi spoof follows protagonist Phillip J. Fry, a pizza delivery boy from 1999, who is accidentally cryogenically frozen in the year 1999; when he is found and thawed, he wakes up in the year 2999. If you haven't seen this one, there are 10 full seasons of hilarity awaiting you. Futurama is currently streaming on Hulu.
Schitt's Creek
IMDb rating 8.4

Years on the air 2015 – 2020
Schitt's Creek did not reach a fever pitch in popularity until its 23rd hour. Just before its final 2 seasons, though, this little Canadian show became nothing short of a phenomenon, quickly picking up a cult following and a mainstream one shortly thereafter. By the series finale, the show garnered itself 19 Emmys nominations, 9 of which it won. Shows with this much heart seldom come around.
When video store mogul, Johnny Rose and his family suddenly find themselves flat broke, they are forced to move to the small, rural Canadian town of Schitt's Creek, leaving their pampered and privileged lives behind for a shared double room in a local motel. Featuring stellar performances from the likes of Eugene Levy, Daniel Levy, and Catharine O'Hara, Schitt's Creek proves that, even in 2020, a show can be both wholesome and hilarious.
Dexter
IMDb rating 8.6

Years on the air 2006 – 2013
There was a time in the late 2000s when it felt as if everyday you heard somebody bring up the show Dexter. If you have ever seen it, though, you'd understand why. This fun spin on the typical crime show brings us the grim double life of a Miami Police Department blood splatter analyst named Dexter (Michael C. Hall) who moonlights as a serial killer. The catch? He only kills those who deserve it.
Friends
IMDb rating 8.9

Years on the air 1994 – 2006
As far as sitcoms go, it doesn't get any more classic than this. Rachel, Ross, Joey, Monica, Phoebe, and Chandler – six 20-somethings inexplicably living in gorgeous Manhattan high rises – can't seem to keep away from hijinks on a daily basis. Friends has certainly earned its spot in the top 15 shows of all time; some people will probably say I should have moved it closer to the top 5, but once you see the shows that made it in the top 5, I think you will agree that Friends is right where it should be.
The Simpsons
IMDb rating 8.7

Years on air 1987 –
The longest-running series to ever air, The Simpsons is the legendary archetype that spawned almost every modern-day comedy series (while also still sticking around to compete with them, outlasting many). There was never a similar show before it, but the shows that it has inspired are now a dime a dozen. There is no telling how long this show will persist (it could outlive you and me for all we know!), but one thing is for sure: there has never been a more influential or timeless show on TV.
South Park
IMDb rating 8.7

Years on the air 1997 –
Of course, there would be no South Park if it weren't for The Simpsons. However, that doesn't necessarily mean that The Simpsons is better, just because it laid down the groundwork that made so many other shows possible. I will admit, though, it was hard to choose which show – Simpsons or South Park – would take the number 10 spot … ultimately, though, it boiled down to which one, in my opinion, has been consistently funnier over the years. And as far as the last 5 or so seasons are concerned, South Park seems to have hit a new stride.
Responsible for some of the most acerbic satirical comedy of all time, South Park invites viewers into the misadventures of 4 elementary school kids as they try to navigate their increasingly crazy world – a world whose insanity and absurdity mirrors our own almost every step of the way. Always current, always committed to making fun of all sides of an issue, and always hilarious, South Park is, I think, the ultimate example of what adult animation could be.
Black Mirror
IMDb rating 8.8

Years on the air 2011 –
Black Mirror is one of those shows that stays with you, in your bones, long after you have watched it. It is chilling. It is poignant. It is terrifying. And it is full of interesting possibilities. Some call it the modern Twilight Zone, and I think that is an apt description of this show that turns reality on its head.
With every episode taking place in a separate universe, Black Mirror is an anthology series that explores the high-tech, near-future possibilities, illuminating some of the darkest sides of humanity through its tendency towards innovation. Some of these technologies will feel eerily familiar, others still far off in the distance. Either way, this show will change the way that you look at the world, one way or another.
Seinfeld
IMDb rating 8.8

Years on the air 1989 – 1998
The puffy shirt. The soup Nazi. The bubble boy. These are more than just episode titles … they are generational inside jokes that anyone who was alive through the 1990s can share a laugh over. Is there any situational comedy show that had a greater cultural influence than Seinfeld? I'd say that it is unlikely.
Not only did this TV show give us some of the most widely recognizable jokes of all time, it also gave us some of the most unforgettable characters: bumbling George Costanza; crazy and paranoid Kramer; not to mention, of course, Jerry and Elaine, whose incredulity and dry wit guide the viewer through series of absurdities.
Interspersing the standup stylings of Jerry Seinfeld (the comedian) with the misadventures of Jerry Seinfeld (the character) and his gang of colorful NYC acquaintances, Seinfeld is truly something special – they simply do not make TV like this anymore.
The Walking Dead
IMDb rating 8.2

Years on the air 2010 –
This unlikely smash hit of a TV show is sometimes cited as singlehandedly reigniting the zombie craze. Harkening back to George Romero's classics (Day of the Dead, Night of the Living Dead, etc.), The Walking Dead has carried AMC for the last decade straight. You do not have to be a fan of horror (or zombies, for that matter) in order to appreciate this show, though. The breakneck pacing, and constantly unexpected twists and turns of the plot would be enough to get anyone hooked after just a single episode.
When sheriff deputy Rick Grimes awakens from a coma, he discovers that the world has gone to hell (quite literally). He must adapt to his new reality and lead a group of survivors through the zombie apocalypse and beyond. The Walking Dead is just about to enter its 11th and final season next year. So, if you are late to the party, worry not. You have plenty of time to catch up and then watch along with the rest of us every week on AMC.
Star Trek: The Original Series / (Honorable Mention: The Next Generation)
IMDb rating 8.3

Years on the air 1966 – 1986
We all know and love Star Trek. Well, okay, maybe that is not entirely accurate. Star Trek (as is often the case with sci-fi) is usually an acquired taste. But for those who have acquired it, almost everything else takes second place to Star Trek.
There are, of course, many iterations of Star Trek, from several TV series (all of which have been wildly successful) to a handful of movies. I think, though, that of them all, The Original Series is the most deserved of a spot on this list.
Why, you ask? Well, for one thing, it is the longest-running Star Trek series of them all. Spanning 2 whole decades, this series was on the air (and remaining popular, mind you) from 1966 to 1986. That is almost unheard of for a series in the sci-fi genre. That is not the only reason, though … I also believe that if you put this series against, say, Next Generation, judging nothing but the quality, from one episode to the next, The Original Series would outperform it.
Plus, I think that, for the uninitiated, The Original Series is perhaps the best place to begin one's personal Trek, if you will. It does a great job establishing the rules of the universe, the characters, the overall dynamic and aim of the crew. That being said, I wouldn't be too opposed to including Next Generation here as well … so, let's call it a tie, shall we?
The Office (US)
IMDb rating 8.9

Years on the air 2005 – 2013
The Office has become nothing short of a cultural phenomenon. It has transcended the realm of mockumentary sitcom and become something more of an obsession, especially with Millennials and Gen Z-ers. Binging The Office over and over again is almost something of a lifestyle at this point. It doesn't matter how many times you've seen this show, the antics of Michael Scott and the gang never seem to get old.
For many, The Office has become something of a comfort blanket; I know plenty of people personally who put this show on as a pick me up when they've had a bad day, as a familiar backdrop for falling asleep, or just when there is nothing better on. This is one of those shows that you can always be in the mood for … which is a truly rare thing.
This show has that special something that is hard to define. There was a chemistry between these characters, as well as between the actors playing them, that you only get maybe once in a generation. For this generation, The Office had that special alchemy. Don't take my word for it, though, go binge all 9 seasons of this modern classic on Netflix before it's too late! The show will be leaving the Netflix lineup for good come January of 2021.
The mockumentary that started the trend, The Office follows a group of "typical" office workers in Scranton, Pennsylvania. This show will make you laugh, cry, and cheer along with every single character's personal journey. Now, that is what TV is all about.
Band of Brothers
IMDb rating 9.4

Years on the air 2001 (miniseries)
I was apprehensive about whether to include miniseries on this list of the best 50 TV shows of all time. My initial concern was that I wanted to only include shows that had staying power, that were consistently good, year in and year out. That was, of course, until I realized that it would be a huge mistake not to include Band of Brothers.
Easily one of the best series of all time, mini or otherwise, Band of Brothers is a great example of TV at its best. Some might say that it even ushered in the more cinematic style of television production that we take for granted in the streaming age. Every episode of this series seems to be better than the last. And win 33 awards to its name, I am obviously not alone in my appraisal.
For those of you who are unfamiliar with Band of Brothers, it tells the story of a US army troupe called Easy Company of the Army 101st Airborne Division. It follows their mission abroad in Europe during WWII; we see Easy Company fight fascism from Operation Overlord all the way through to V-J Day. A timeless classic, no doubt, but it feels especially poignant given the current state of America. An easy binge (though I recommend savoring this one, folks).
The Sopranos
IMDb rating 9.2

Years on the air 1997 – 2007
The Sopranos is one of those incredibly rare shows that, for 6 seasons straight, does not seem to misfire for a single episode. Year in and year out, this show captures and reimagines mob life, blending action, grittiness, and empathy into a previously unexplored examination of what mafia life might do to one's psyche. It is hard, in general, I think, to present either a heavily cerebral series or an action-packed one (and do it well). It is even more difficult to interweave these 2 together in a believable and captivating way. The Sopranos is the perfect example of how this can be done.
All of this does not even yet mention the sheer level of influence that this show has had on the countless mafia and crime shows to come after it. Without The Sopranos giving us a band of loveable antiheroes, there would be no Breaking Bad, The Wire, or Ozark. This is the originator right here … this show paved the way for 20 years of excellent TV. The best part is, is that it still holds up. If you don't already have it, get yourself access to HBO today and watch this show from start to finish. You will not be disappointed … this I promise you.
Breaking Bad
IMDb rating 9.5

Years on the air 2008 – 2013
Breaking Bad is one of my personal favorite shows, hands down. In fact, I might even go as far as to say that it is my number one favorite TV show of all time. I had a hard time deciding whether to list this one as number 1 or number 2. Ultimately, though, when you see what I listed as the number 1 best TV show of all time, I think that you will understand.
I did not just pick Breaking Bad because it is my favorite show. The IMDb rating alone backs me up … it is simply an incredible show. Some have gone as far as to say that it is responsible for creating binge TV culture. I, for one, could not stop watching it when it was first featured on Netflix years ago. This show is both one of the most popular and most-viewed shows of all time, as well as one of the most critically acclaimed shows. As far as gritty, realistic crime dramas are concerned, it just doesn't get any better than this.
When high school chemistry teacher, Walter White, is diagnosed with lung cancer, he turns to cooking and manufacturing crystal meth in order to secure the financial future of his family. A novel plot for the time, but one that has quickly become a classic story for the ages. It will disturb you how far into the darkness you are willing to follow Walter White. This is definitely one to watch from start to finish, no skipping around. You'll never want it to end – which is probably why it has inspired 2 spin-offs: a movie (El Camino) and another series (Better Call Saul).
If you have never seen Breaking Bad, do yourself a favor and start binging it on Netflix tonight. And then check out those spinoffs – they are also very good!
Game of Thrones
IMDb rating 9.3

Years on the air 2011 – 2019
Prepare yourself, for Winter is Coming. And the best way to survive the winter is to stay at home, watching the best TV show of all time. Game of Thrones may not have made everyone's number one spot, but it made mine, and I will tell you why. The reason that this show has fallen out of favor with a lot of people is due to its poorly received final season. As trendy as it was to be obsessed with Game of Thrones in 2018, it became equally trendy to hate on it in 2019, simply because people were disappointed with how the show ended.
I understand why people were underwhelmed (don't worry, no spoilers here), but I am going to go ahead and posit this: would you have truly been satisfied with any ending? Sure, there are some that may have been more cathartic or perhaps deserved for certain characters … but I have a feeling that people would have whined and complained no matter how this series ended. It is impossible to close the curtain on such a believably, fully materialized, epic world like that and have everyone be satisfied.
Which is why I stand behind Game of Thrones as the best show to ever grace television airwaves. Not only does it contain some of the best writing in TV to date (definitely thanks to George R. R. Martin, but also due, no doubt, to the screenwriting staff who adapted the books), but it also has some of the best graphics of all time and some of the greatest acting performances that I have ever seen.
Plus, before it became trendy to be a hater when it came to Game of Thrones, this show has to have been the most influential show on TV, at least in my lifetime (if not of all time). Literally every single person that you came across on the street was talking about the latest episode, for days after it aired. You couldn't go to the pub without overhearing a conversation about the latest episode. You sometimes had to literally cover your ears while out in public if you hadn't yet watched the latest episode and didn't want to accidentally catch any spoilers. This show was way more than just a TV show, it was a cultural obsession.
Conclusion
I don't know about you, but I am honestly just sort of biding my time until the spinoffs get released. TV has not been the same for me since I watched this show. The prequel to Game of Thrones will be entitled House of the Dragon, and it is rumored to tell the story of House Targaryen, set 300 years prior to the events of the original Thrones series. It is not currently known when this series is slated to release, but insiders say that it has begun pre-production.
In the meantime, though, definitely watch Game of Thrones if you have not already. Even if you are not a fan of fantasy (I usually am not), this show will blow you away like nothing else before it.