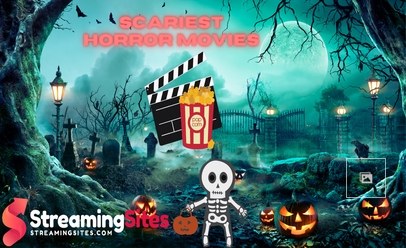 Stream the scariest horror movies of all time this Halloween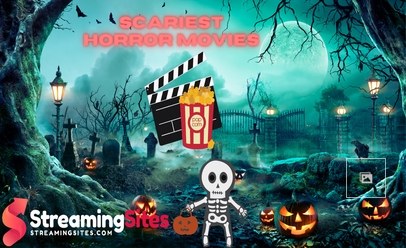 Stream the scariest horror movies of all time this Halloween
It is that time of year again, ladies and ghouls. It is time for ghosts to run amok and for vampires to feed. It is time for the dead to roam the earth and for darkness to reign supreme. That's right, All Hallows Eve is upon us once more.
Since our own real-world horror story is still playing itself out in the form of a global pandemic, there is a good chance that most of us will not able to go out for our usual Halloween shenanigans. That means no costume parties, no taking the kids trick or treating, and likely nobody to hand out candy to (cue the blood-curdling shrieks).
Just because it is a dystopian hellscape outside, though, that doesn't mean that we can't still celebrate the spooky season from the comfort of our own couches. There are thousands of horror movies available on every streaming platform. Plus, if you can't find a certain scary movie on one of the streaming services that you have an account to, you can always check out my list of the best free movie streaming sites – I guarantee you'll be able to find what you are looking for there.
In order to honor my favorite holiday, I thought I would put together a list of the scariest horror movies of all time. I tried to include a good mix of the classics and potentially lesser-known films as well. Indulge in a familiar favorite or find a new fright. The choice is yours.
Either way, it's time to pop some corn, turn out the lights, and get ready to die – I mean, scream. Here are the scariest horror movies of all time.
Hereditary
Release Date 2018

IMDb Rating 7.3
One of the newer titles to make the cut, Hereditary is one of the most unsettling films that I have ever seen. For a horror fan, being unsettled is the name of the game. In fact, there is a chance that Hereditary was perhaps too unsettling for the average moviegoer. Receiving an initially devastating D+ on CinemaScore, it appears as if people did not know what to do with this film. It has aged into a cult classic, nonetheless, and I would argue that it is one of the best movies I've ever seen (horror or otherwise).
The movie follows a grieving family as it is haunted by tragedy. There is a force of ultimate darkness at work here, an evil passed down through generations. Check this one out on Prime Video (if you dare).
A Quiet Place
Release Date 2018

IMDb Rating 7.5
I won't lie, when I went to see this movie in the theaters, I did not expect to like it even half as much as I did. A horror film directed by the guy who played Jim on The Office? … Yeah, right, laughable.
I was not laughing at all, though, by the end of A Quiet Place. A family living in a postapocalyptic world is forced to live in silence in order to avoid detection by monsters with super-sensitive hearing. The premise, though, really doesn't do the movie justice. A Quiet Place is an innovative take on the genre, one that toys with the senses in a fun and interesting ways – you'll never be more afraid of noise in your life.
Alien
Release Date 1979

IMDb Rating 8.4
I was torn between choosing the original Alien and its sequel, Aliens (which came out almost a decade later). Both are terrifying, but for very different reasons. Aliens is a much more visually stunning and action-packed take on the story of a space crew being hunted by a dangerous, bloodthirsty alien lifeform. Whereas the original traffics more in the slow-building suspense and tension of the situation.
The original ultimately won out because I tend to think that jump scares are cheaper than being able to gradually build and hold a sense of terror and suspense in subtler, more nuanced ways. Alien is a classic, no doubt, and a great choice if you are ever unsure of what scary movie to put on. It might not be your typical horror film, but it will horrify all the same.
It Follows
Release Date 2014

IMDb Rating 6.8
Don't let the low IMDb rating throw you, It Follows is a novel horror film – one of those rare movies that find new angles to terrify its victims (or viewers). It is not the premise of the movie that scares me as much as the way in which the killer creepily stalks his prey for long periods of time before attacking. Once again, It Follows is a horror movie that plays the patience card to get its scares. In the tradition of Michael Myers's slow-moving predatorial pursuit, "It" from It Follows haunts his victims in a way that will have you constantly looking behind your back.
If you can get past the somewhat heavy-handed nature of It Follows (the fact that the ghost killer haunting is passed from one person to the next via sex, like a metaphysical STD or something), this one is packed with scares that will stick with you long after you turn it off.
The silence of the Lambs
Year Released 1991

IMDb Rating 8.6
Is there anything scarier than Anthony Hopkins' classic portrayal of a psychopathic cannibal killer, Dr. Hannibal Lecter? In this initial installation of the Silence of the Lambs films, we follow a young FBI cadet who chooses to consult an incarcerated Hannibal Lecter in order to better understand the deranged mind of another serial killer still on the loose.
This is the perfect movie for horror and crime drama fans alike. The silence of the Lambs offers the best of both worlds. It will likely take years to fully digest the terror of this one (pun intended).
Halloween
Year Released 1978

IMDb Rating 7.8
This is the Halloween film that started it all. Since its release in 1978, there have been dozens of sequels, spinoffs, spoofs, and copycats. It doesn't get more iconic than the camera looking out of an upstairs window to see Michael Meyers in broad daylight, standing across the street, watching, waiting only for nightfall.
Arguably the best serial killer slasher film of all time, Halloween is a movie that is both firmly rooted in the time that it was made while also managing to be timelessly terrifying. Close your eyes and picture Michael Meyers. How vivid was that mental image? Allow that to be a testament to how impactful this one is; you could say that it is the quintessential horror film.
Nightmare on Elm Street
Release Date 1984

IMDb Rating 7.5
"One two Freddy's coming for you, three four better lock your door, five six grab your crucifix, seven eight better stay up late, nine ten never sleep again." If you have seen Nightmare on Elm Street, then you know all too well the power behind this little nursery rhyme.
Right up there with Halloween is this Wes Craven masterpiece. Some of the best horror movies are the ones that manage to make you fear the most commonplace things. And it doesn't get much more universal than the act of sleeping. An ingeniously novel premise, the infamous dream slasher Freddy Krueger is inescapable.
The deformed spirit of a slain child murderer seeks revenge by infiltrating the dreams of the teenagers whose parents were responsible for his death. Good luck going to sleep after this one.
Rosemary's Baby
Release Date 1968

IMDb Rating 8.0
Written and directed by real life monster, Roman Polanski, Rosemary's Baby is frightening on every level. The movie follows the story of a pregnant woman who begins to suspect that an evil cult wishes to steal her baby for use in their dark rituals. The movie was met with near universal acclaim from critics and fans. It is also often touted as one of the seminal works of the "art horror" genre (a tradition in which the likes of David Lynch, Darren Aronofsky, and Stanley Kubrick would also follow).
Rosemary's Baby is not only one of the scariest movies of all time, it is also a work of extreme cinematic and cultural importance. If you haven't seen this one yet, you're in for a treat (and a few tricks as well).
Pan's Labyrinth
Release Date 2006

IMDb Rating 8.2
There is no movie in the world that is anything like Pan's Labyrinth. Although it is definitely not your traditional horror film, it is surreal and haunting, nonetheless. Pan's Labyrinth transports viewers to a supremely imagined underworld of dark fantasy and hellish royalty.
Set in 1944 Falangist Spain, this Guillermo Del Toro masterpiece follows a young girl, the bookish stepdaughter of a cruel army officer, as she escapes her bleak reality by happening into an eerily twisted world of fantasy and monsters to meet her fate. Will she fulfill her destiny? Stream Pan's Labyrinth today to find out.
Midsommar
Release Date 2019

IMDb Rating 7.1
Midsommar is one of those movies that stays with you long after you finish streaming it. It burrows itself deep into your bone marrow and chills you from the inside out every time you think about it. This movie is deeply disturbing but in the best way. If you are looking to stream horror movies that go beyond the typical slasher flick or ghost story, Midsommar is a great place to start.
A group of anthropology graduate students travels to Sweden to study a rural society's mid-summer festival. Although the trip begins as an idyllic and fascinating retreat, things gradually grow violent, disturbing, and deadly. Once it is too late for the group of students to do anything about it, it becomes painfully clear that they have been tricked into a life or death competition being administered by a Pagan cult.
If you like to stream horror movies that are terrifyingly cerebral, unique, and viscerally terrifying, Midsommar could wind up being your new favorite. Stream on Prime Video today for free.
The Witch
Release Date 2015

IMDb Rating 6.9
Also in the category of cerebral horror, The Witch is another great example of horror movies that find novel ways to frighten. Much like Midsommar, this one is less about traditional jump scares, gore, and special effects. The Witch operates almost entirely on the atmosphere. The Witch is a scary movie, no doubt, but the fear is born less of the overtly horrifying elements of a typical horror flick; the sense of terror and suspense felt here is more of a result of the film's unsettling cinematography, its implications, and its pacing.
The Witch was met with mixed reviews. Critics loved it, but the response from moviegoers was somewhat tepid. This is probably due to the fact that it is, as I said, such a different approach to the horror genre than people are used to. This is a great film for the patient film viewer. Be willing to wait it out and let the full effect of the film wash over you by the end and I guarantee that it will be worth it.
A period piece, The Witch is set in New England in the 1630s. It is relatively rare, I think, for a movie to tackle a pilgrim story; for a horror movie, this is unheard of. Once you invest in this uncommon world, though, you'll be asking yourself how it is possible that more scary movies haven't been set in this inherently dangerous and dark time period.
Follow one pilgrim family as they become haunted by witchcraft, possession, and black magic. Watch The Witch (available on Showtime) and prepare to be haunted by one of the best scary movies ever made.
Psycho
Year Released 1960

IMDb Rating 8.5
Of course, no list of the scariest movies of all time would be complete without at least one Alfred Hitchcock film. Widely considered to be the master of the genre, if you have never seen a Hitchcock movie before, cancel whatever plans you may have had for tonight and watch Psycho.
This movie is probably the most iconic and influential horror film of all time. Even if you've never seen Psycho before, I am willing to bet that you can picture its infamous shower scene in vivid detail. Now, that's power.
Psycho, though, is much more than a horror film that has inspired and infiltrated the nightmares of millions since its 1960 release. Embedded in the terror of this film is a captivating mystery story as well. When a secretary embezzles $40,000 from one of her boss's clients, she goes on the lam. This leads her to fatefully check into a little motel – yes, the Bates Motel – run by a charismatic (but twisted) young man, Norman Bates. The rest, of course, is history.
Psycho is the seminal slasher film. This is a scary movie that started it all.
House of 1000 Corpses
Release Date 2003

IMDb Rating 6.1
Okay, allow me to preface this choice: I know that there are a lot of horror buffs who would probably take issue with my decision to add this Rob Zombie film to my list of the scariest horror films of all time. Rob Zombie movies tend to be pretty polarizing for some reason. In defense of my decision to include House of 1000 Corpses on this list, though, allow me to say this: this is a list of the scariest horror movies of all time, not the best movies.
I do personally think that this is a good flick, too, though I know that some will disagree. Either way, I wanted to include this movie because it shows how raw and messed up a scary movie can get; it is one of those scary movies that rely on shock value a lot of the time, sure, but there is a reason why people are so frequently repulsed by shocking horror films. Violently shocking things are scary.
This movie functions almost as a prequel to the more commercially successful Zombie film, Devil's Rejects. Two couples are traveling Texas's backwoods, making a movie about urban legend serial killers. When they are taken prisoner by one of the most notorious serial killer families of all time, they learn more about the murderous legends than they ever bargained for.
Get Out
Year Released 2017

IMDb Rating 7.7
When famed comedian Jordan Peele first announced that he would be delving into horror, people didn't know what to expect. As soon as Get Out hit theaters, though, there was no question about it: Jordan Peele's status as a world-class master of horror was secured. Not only is Get Out one of the best scary movies to ever be made, it also sparked a whole new sub-category of the genre, something that could be called "sociopolitical horror."
Everything about this movie is both entirely novel and firmly rooted in a tradition of classic horror. A young African American man goes on a weekend trip to meet his white girlfriend's parents. His unease at their reception of him gradually grows until it culminates in a climax of conspiracy and control. Get Out is the first movie to fit the objectively violent and mortifying reality of racism in America into the context of the horror genre.
The Exorcist
Year Released 1973

IMDb Rating 8.0
Whether or not you have seen The Exorcist, there is a good chance that you have seen one of the countless movies that it has inspired. The originator of the 'possession' film, The Exorcist is a demonic glimpse into the mysteriously dark forces that keep us all up at night from time to time.
If the plot feels familiar, it is because this movie spawned plenty of copycats in the almost 50 years that have transpired since its release. When a 12-year-old girl becomes possessed by a demonic spirit, her mother turns to a pair of priests to try and save her. Not only is this movie a classic, it will make you think twice before turning the lights out to go to sleep.
The Shining
Year Released 1980

IMDb Rating 8.4
It is no secret that Stephen King is a master of fright. It is also no secret that Stanley Kubrick had an eye like no other for the unsettling. So, what happens when these two visionaries of the disturbing collaborate on a movie? Well, you get one of the best horror films of all time, The Shining. Add an authentically psychotic performance by Jack Nicholson into the mix, and you have the makings of a timeless classic.
When a family takes to an isolated Colorado hotel for a particularly stormy winter, a malevolent force lures the alcoholic father into violence. His son, however, discovers that he has psychic abilities, which give him the power of seeing and communicating with the demonic forces at play. The Shining is both one of the scariest movies you will ever see and one of the best movies ever made, period.
Conclusion
Let's face it … you probably have at least 2 or 3 of the popular premium streaming services already. Chances are, you have access to at least 1 of the movies on this list (probably more). There is no reason why your Halloween weekend should be ruined by Covid. Load up some of these timeless horror classics and enjoy on your favorite premium or free streaming site of choice!